Depending on your needs, there are two subscriptions available to purchase in-app: Plus or Pro.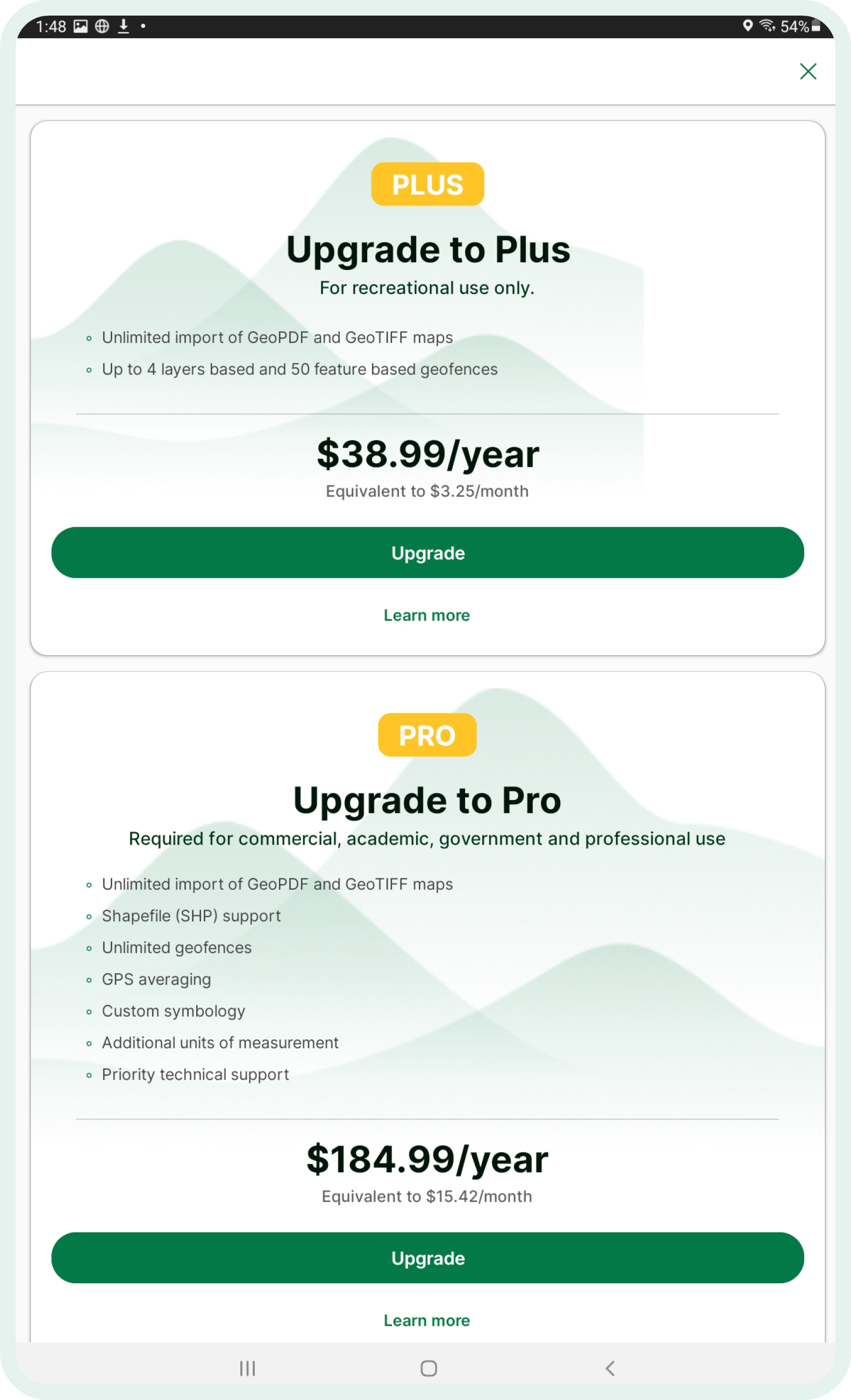 * Pricing will be shown in local currency according to your device's regional settings
Plus subscriptions are for recreational use only and allow users to import an unlimited number of their own custom maps, as well as access a limited number of geofence features. This subscription level is ideal for the avid recreational user who has their own supply of maps that they want to be able to use at any given time.
Pro subscriptions are for any work-related activity, including but not limited to, paid work (contract, full-time, part-time, etc.), non-profit work, volunteer work (e.g. SAR), and academic use (e.g. research, school studies, etc.). This subscription level allows unlimited custom imports, Shapefile import/export, custom symbol set creation and management, map orientation lock, and more.
Subscriptions are purchased on a per-device basis and are only valid on a single device at a time. If you wish to move your subscription to a new device, please see our article "here". If you are needing the subscription on more than one device at a time, you will need to purchase the subscription on each device you are needing. Please note that if multiple are needed on an iOS device, you will need to use different Apple IDs as Apple only allows a single subscription per Apple ID.
If you are needing to purchase a Pro subscription for 3 or more devices at a discounted rate or would like to take advantage of our non-profit or academic pricing, - please see our article "here" for more details on Enterprise subscriptions.
For more information on the features available in Avenza Maps subscriptions, as well as pricing structure, please visit https://www.avenzamaps.com/maps/version-comparison.html