This article will go over how to access maps that have been purchased on avenzamaps.com. If you are looking for information on how to make a purchase on our website, see the Purchasing a Map article in this section.
Once you've checked out your shopping cart and successfully completed the purchase - each of the map products are linked to your Avenza Maps account. To access your newly purchased products, you must have the Avenza Maps app downloaded and installed on an iOS/Apple or Android device. You can find the Android app here and the iTunes app here These maps can be downloaded on up to 5 devices that are linked to your account. Maps purchased on avenzamaps.com are currently not viewable on a desktop PC or Mac.
Upon downloading and opening the Avenza Maps app, new users will be prompted to create or sign in to an existing Avenza Maps account through a series of welcome screens as shown below.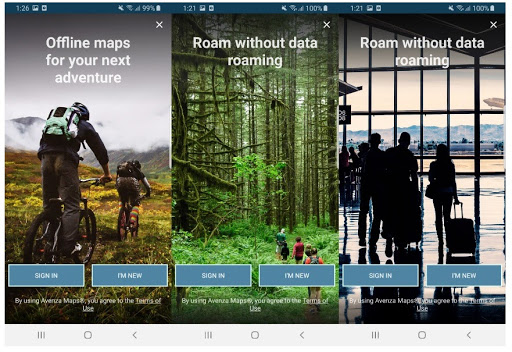 Tap the sign-In button and enter the credentials for the account you used to make your Map Store purchases. After signing in, you will be directed to the My Account window with three options. Download History is where you will be able to download free or purchased maps acquired by your account - whether through the in-app Map Store or on avenzamaps.com.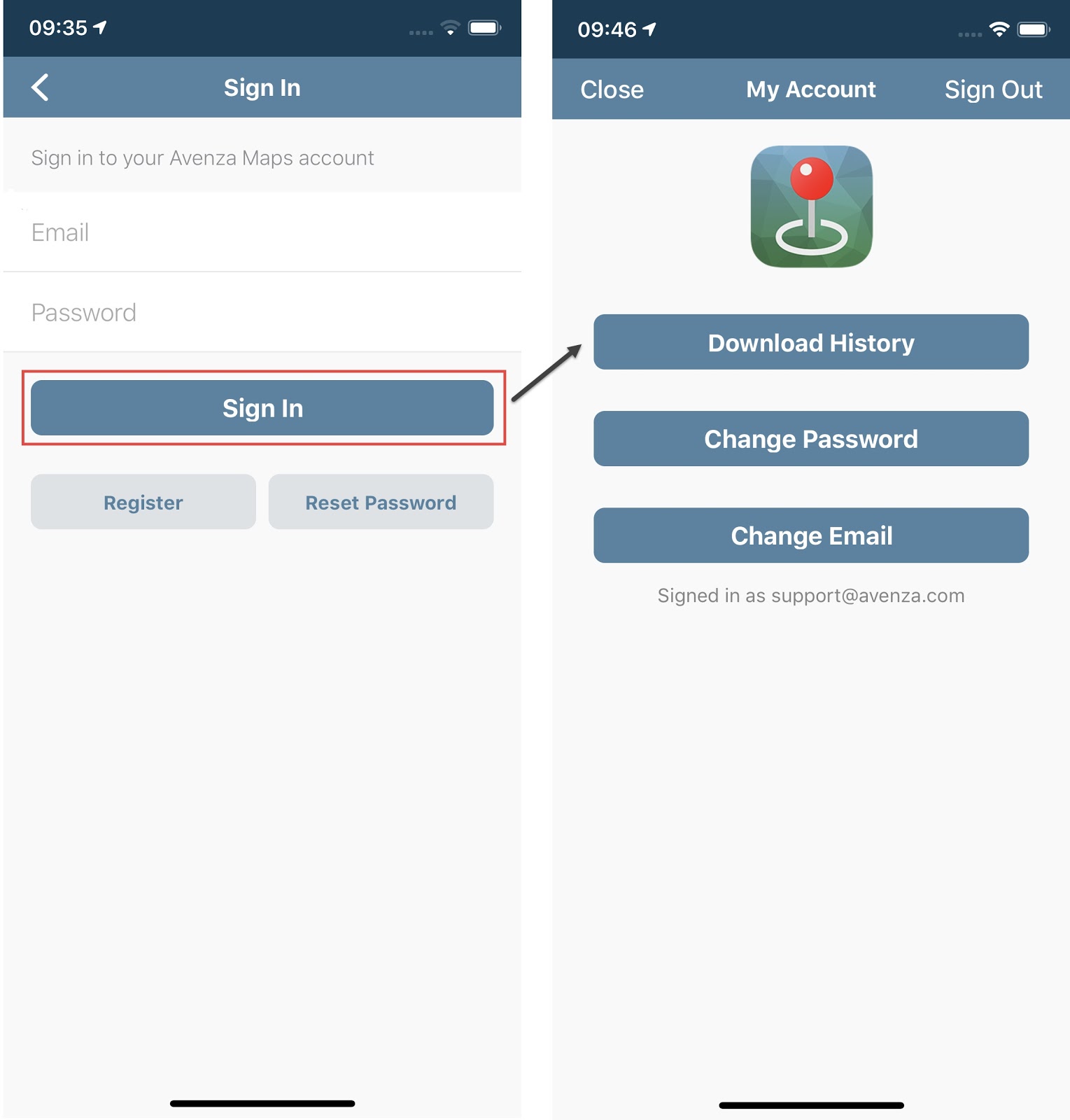 Users can easily access the My Account window through the head and bust icon on the My Maps page as shown below.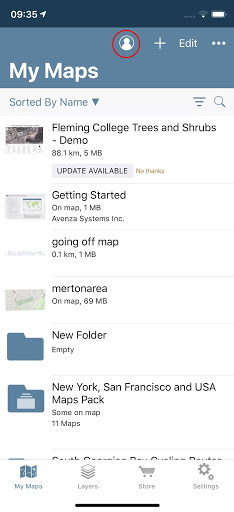 In the Download History window, users will see all their linked maps sorted alphanumerically by name. Users also have the option of sorting by date of purchase/download or searching for maps by title or keywords. If you find that some of your purchases are not appearing in your Download History, please contact support via this form. To download maps to the device, tap the Download button underneath the map you would like to access. To download multiple maps to your device at a time, tap the select button. You then can select a few maps of choice or select all. Once you have selected the maps, tap Download to start the download process of the chosen maps. The map downloads will begin on the My Maps page and will be accessible once the downloads have completed.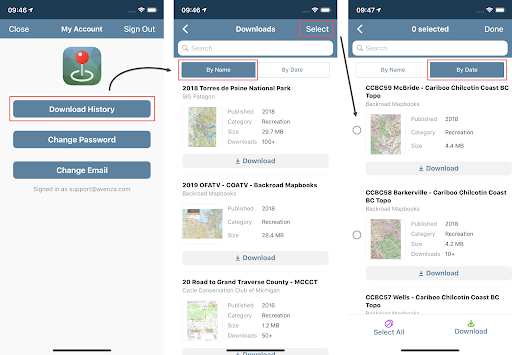 Dark and Light Mode
Users can now utilize the dark to light mode themes when searching and buying maps. Avenza has also updated the navigation bar which provides a seamless transition to and from the map store. Users will also have the ability to search by lat/long coordinates in the Map Store the ability to filter for Free Maps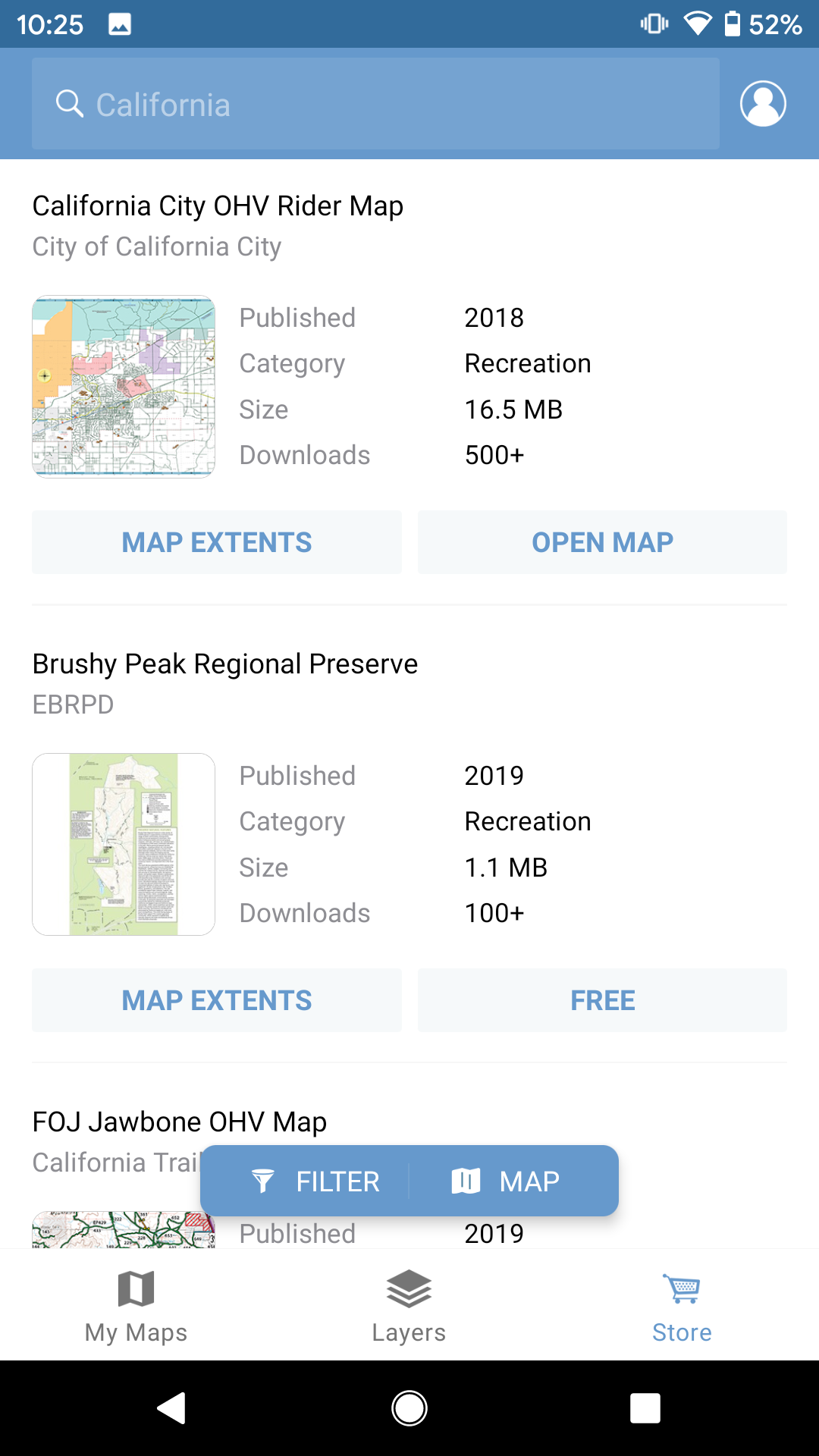 Maps purchased through the online Map Store are only available for download through the Avenza Maps app for your iOS or Android device. Maps purchased through the online will be added to your Map Store account, which can be downloaded on your device.