To purchase an Avenza Maps subscription (Plus or Pro) in-app, please open Avenza Maps and go to Settings > Upgrade Account.
Once here, you will see two subscription options available. Once you have decided which subscription is suitable for your needs, please select it to purchase. If you are purchasing it on an Android device, you will need to be logged into your Map Store account prior to making the purchase, as the purchase becomes linked with that account. For iOS users, this is not necessary, as subscriptions purchased in-app are managed through the Apple Subscription Service and will be linked to your Apple ID.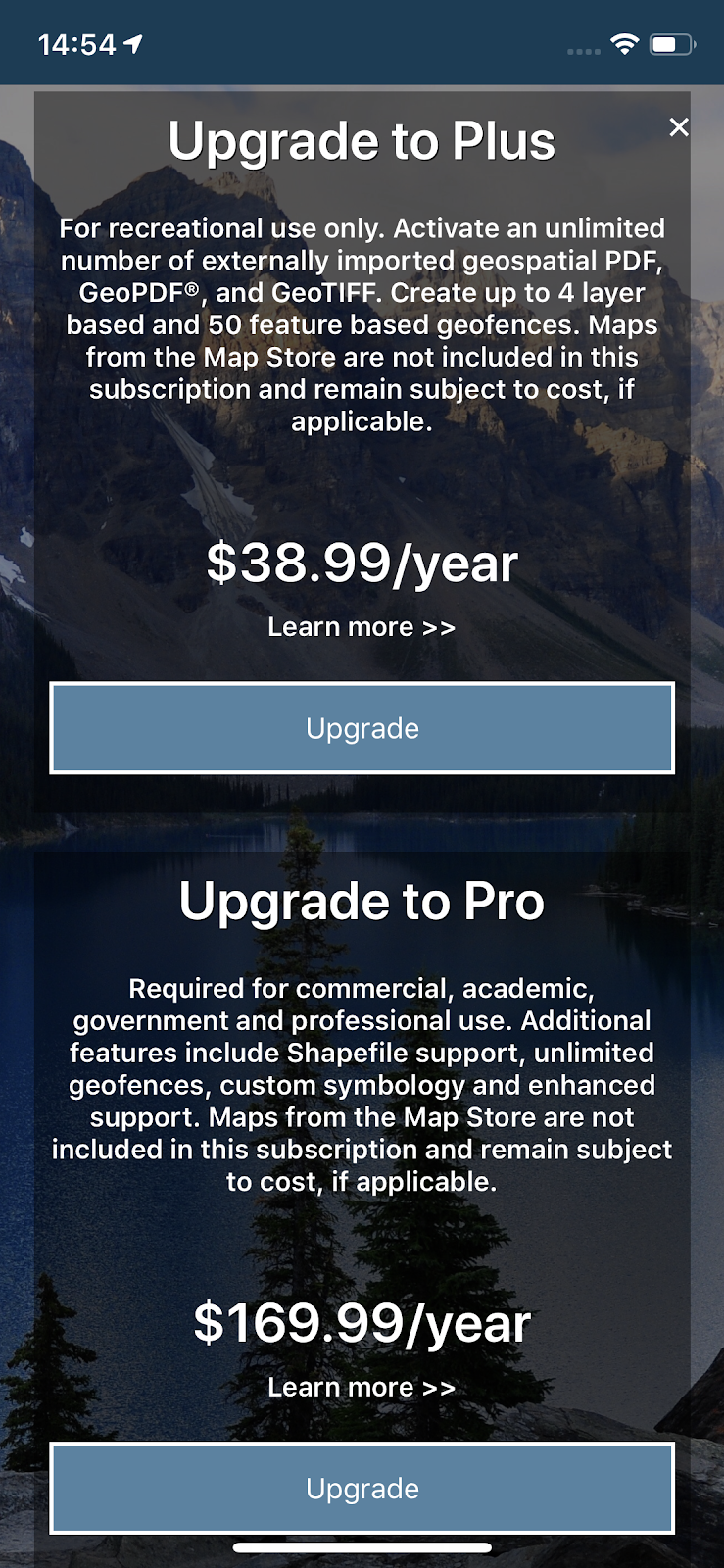 After selecting the pricing level, the purchase will proceed through the applicable app store on your device (Google Play Store for Android devices, and the Apple App Store for iOS devices). In order to complete the payment, please ensure that you have a valid payment method set up with the app store prior to making the purchase.
Once the purchase is complete, the subscription will automatically be placed on the device used to purchase the subscription. For Android users, you will receive an email with your subscription code - please keep this safe, as this code is needed if you wish to switch devices. For iOS users, there are no subscription codes as Apple manages the subscriptions directly (similar to other subscriptions that you may have, such as Apple Music).
Trials
First-time subscription users will have access to a free 30-day trial of our Pro level subscription. For Android users, this is a separate option that you can select when purchasing a subscription. If selected, you will not be charged for the subscription until you go back in at the end of the 30 days and re-select the subscription you wish to purchase (the trial on Android is a separate subscription).
For iOS devices, the 30-day trial is included in the purchase of a Pro subscription. The first 30 days of your subscription will be free, and you will automatically be billed and your Pro subscription continued at the end of the 30 days if you do not cancel the subscription prior to that.
Related Topics