Location
Tap the GPS icon to find your location on the map. Your location is displayed as a blue dot. The blue transparent circle is an indication of the accuracy of the GPS fix (the smaller the circle, the more accurate of a fix). If you're not physically within the extents of the map, "Not on map" will be displayed where the map coordinates are.
If you are having any problems locating yourself, please ensure that you have location services enabled on your device, that your device has a built-in GPS (if not using WiFi or data), and that you are using a referenced map that you are located on. If you are still having problems, please contact our Support team.
Please note that there are several tablets available on the market that do not have a built-in GPS receiver. These include any iPads that are WiFi-only models (must be WiFi + Cellular to include a GPS chip) and several Android tablets. This does not mean Avenza Maps cannot be used, but it does mean you will need a constant WiFi signal available, or an external GPS receiver in order to use the location features within Avenza Maps.
On devices with built-in GPS, your location will be triangulated within a few seconds. Depending on your device and available services, your location is determined using a combination of cellular, Wi-Fi, Bluetooth, and GPS. Learn more about location access and services for Android here and for iOS here.
- Tapping this will allow you to locate yourself on the map.
- This will allow you to locate yourself on the map, and the app will track your location.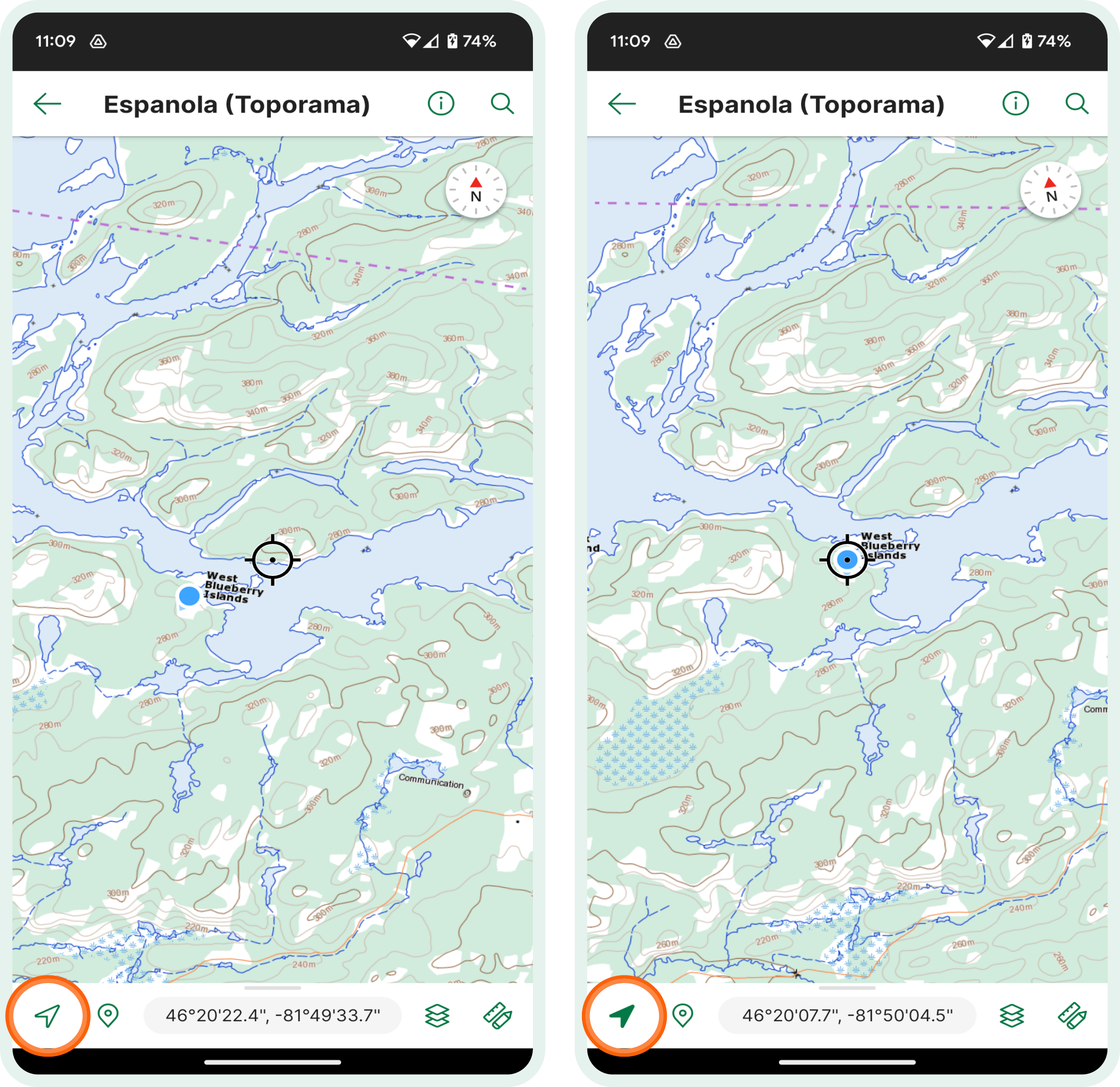 Compass
Avenza Maps has two different compass options when viewing a map. Follow-mode, and Compass-mode. When the compass is enabled, as shown above, the default is Follow-mode (map is in the default orientation, and the crosshair will follow your movement). If you tap the GPS compass again, it will change to Compass-mode (symbol will change as well), and the map will rotate based on the direction you are facing (see image below). You will see the symbol change to

.
A compass (

) also appears in the top-right of the map view. If you tap the compass a third time the compass will be disabled. You can also rotate the map manually using a two-finger rotate gesture (

).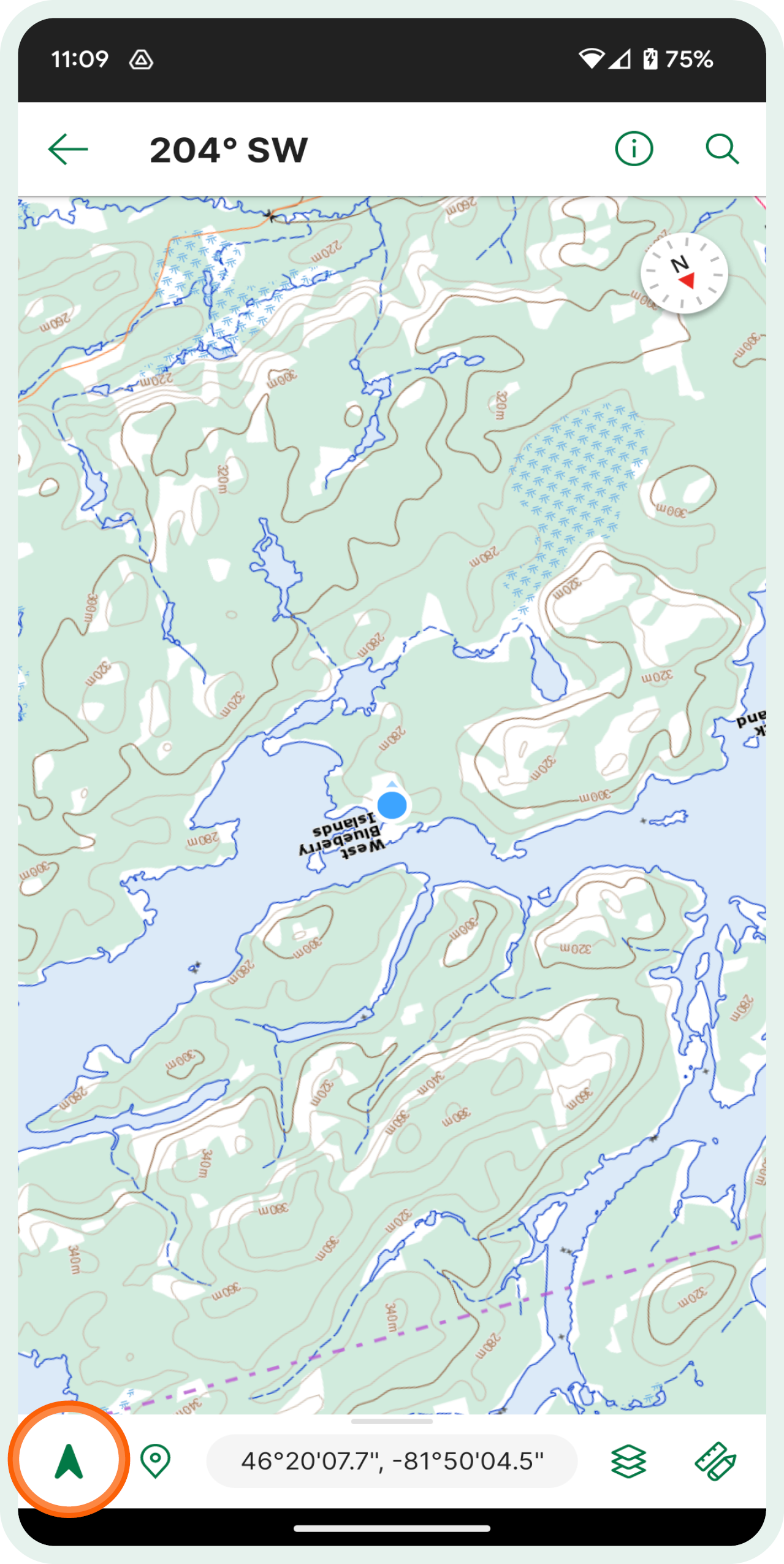 You can also view the compass mode through the Navigation bar (slide up on the coordinate display on the bottom of the map view) under the GPS tab. This tab will allow you to see the compass, your current speed, altitude, horizontal and vertical accuracy, as well as if you are connected to an external GPS device. For more information on the Navigation bar, please see the article here. For more information on connecting to an external GPS device, please see the article here.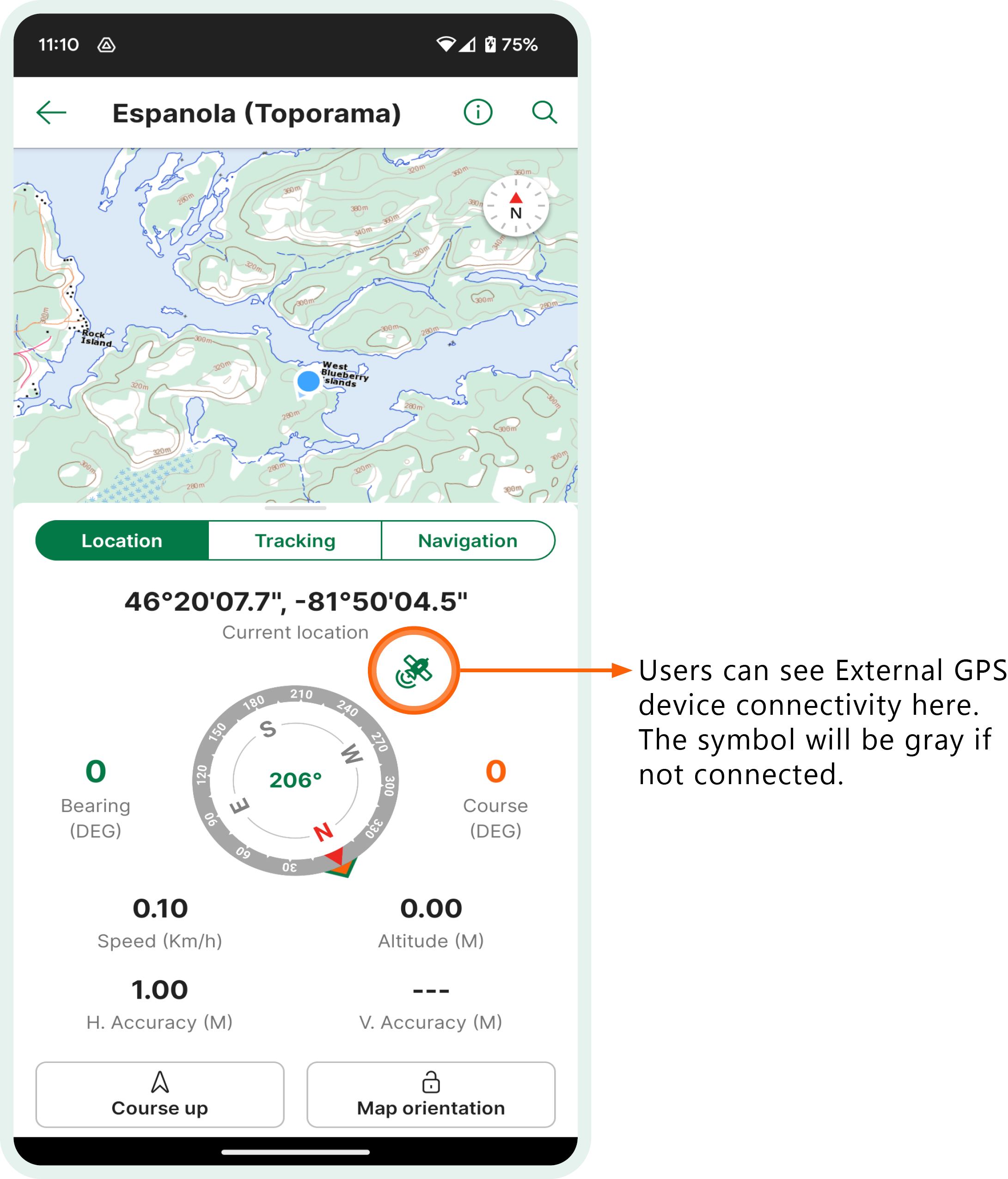 Calibration
Your mobile device uses various sensors to obtain compass directions. These sensors are prone to interference and thus you may need to calibrate your device compass from time to time. If you are having issues with the Avenza Maps compass, please consult your device manufacturer's instructions on how to calibrate your device compass. After recalibration is complete, if you are still having issues with the compass, please ensure that you are clear from any potential satellite disruptions (e.g. tall buildings, dense tree cover, etc.) as these will also interfere with a signal. It should also be noted that metal phone cases, those which contain metal or are magnetic, can also affect the compass.