Administrators for Avenza Maps Pro Enterprise subscriptions have access to our subscription management system. This system is required to deploy, monitor and manage the users who have registered with your subscription. The following tools and features are available to assist you. The subscription manager can be found on our website by clicking on Commercial Usage > Manage Subscriptions or by clicking the link here. The following is a breakdown of what you will see when visiting the Subscription Server.
Account Info/Search

Support - this will direct you towards the online help documents. If you require further assistance you can contact the Support Team here
Profile - this is where you can change your password to access the Subscription Server. For more information on setting a Subscription password you can read this article.

The Search bar - allows you to search your Subscriptions and registered Devices for things like user name/email, device type, UDID or Subscription name. Click the Clear button to clear the Search text box of any keywords and to see all subscriptions and devices.
Your Subscriptions
Your available subscription IDs are listed in this section. The Code is your Account Number that users input into the device to register for Avenza Maps Pro. The table displays your Subscription Name, the Code, your device limit, remaining devices and subscription expiry date.

Edit description - allows you to change your subscription name and add a password that users will have to enter to register using this code.

This allows you to change the number of records you can see in this table.

You can download a CSV that has all your subscription details.
Temporary Subscriptions
The next table shows your Temporary Subscriptions. For more information on how to create and use Temporary Subscriptions, you can read this article.
Devices
The Name, Organization and Email are values entered by the user when they register their device. The device type (e.g. iPad) and UDID (a unique identifier assigned to the device by Avenza Maps) is recorded by the server. The Registration column shows the date of when the device was registered.

This allows you to filter devices that you have banned from your subscription.

You can download a CSV table of all the device information currently viewed in the table.

Click the arrow to highlight which subscription the device belongs to (helpful if more than one subscription exists for the organization). Click the Edit icon to edit details about the device owner.

You can edit the number of devices that can be viewed on the table at one time.
Edit a device
Click the Edit icon to edit details about the owner of the device including name, email, and organization. Optionally, click the Deactivate button to block the device from using the subscription ID it was registered to. When a device is deactivated, a tag is displayed beside the device owner on the list. Additionally, you can click the Ban button to block the device from using a specific Subscription ID forever.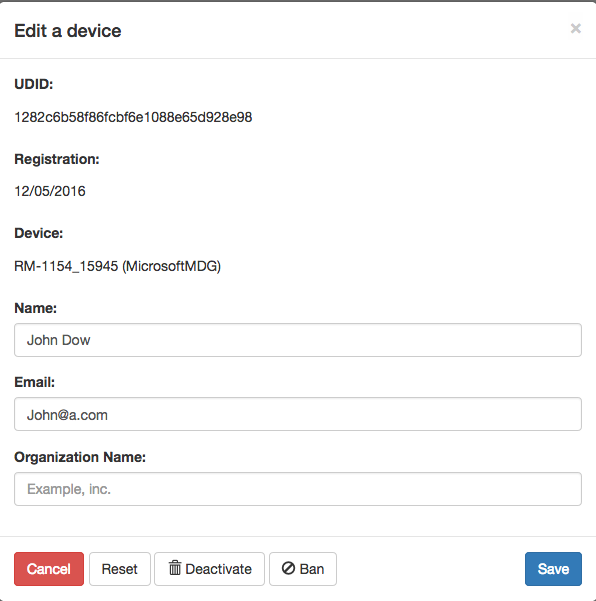 Related Topics