Registration Links allow you to easily share your Avenza Maps Pro Subscription with your team and make it quick and simple for them to get the Pro subscription registered on their device. Here is how you can create a Registration Link to get your Avenza Maps Pro Subscription out to your team.
Your Subscription Manager is where you will create these links. You will find a new icon next to every Subscription Code in your Subscription Manager, including Temporary Subscriptions.

Once you click on the Link icon, if there is no existing Registration Link, you will need to confirm to Create Link and then you will be shown the Registration Link window with a variety of tools and features to help disseminate your code.
NOTE: Users will be required to have the latest version of Avenza Maps to take full advantage of the Registration Link feature.

Once created the icon next to your Subscription Code to tell you that a link exists. You can click this link to access the Edit Registration Link window.
The Edit Registration Link window has a number of tools and functions for your Registration Links.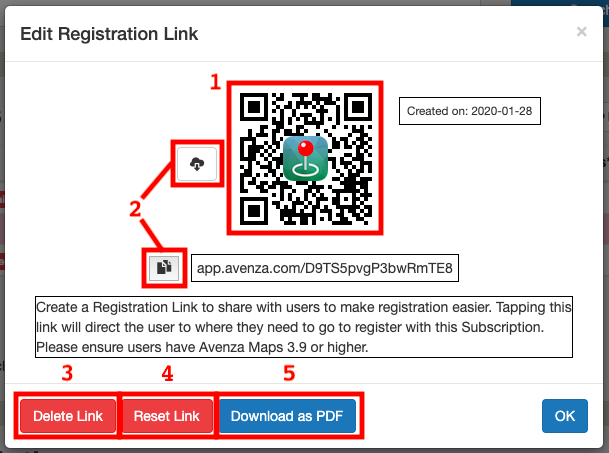 This QR code can be scanned by the Avenza Maps app to automatically register the Subscription Code. Click here to learn how to scan this QR code in Avenza Maps

The QR code and URL can be copied/downloaded to share or apply to material to disseminate your Pro code among your organization.

Delete Link will delete the link. Nobody will be able to register using the link or QR code when it has been deleted.

Reset Link will generate a new link and QR code for the Subscription Code. The previous link will no longer be able to be used to register your Subscription Code.

You can download a pre-formatted PDF with everything you need to get you and your team registered with your Subscription Code. This PDF can be printed or posted in a location that your team can access to register.