You can access and define settings for the app here. While some settings vary and some are completely optional, they're simple to use and may help you customize some of the features in the app.
The settings page also shows you which version of the app you currently have installed if you scroll down to the bottom of the page.
The main sections for Settings are as follows:
Help

Account Information

Enter Account Details*

Upgrade Account*

Restore Subscriptions**
Settings

General

Display

Units of Measurement

Map View

Manage Symbol Sets (Pro subscription)

GPS

Geofencing***

Navigation
*When a coded subscription is applied, these will be replaced with Account Details
** iOS devices only
*** Android devices only
Android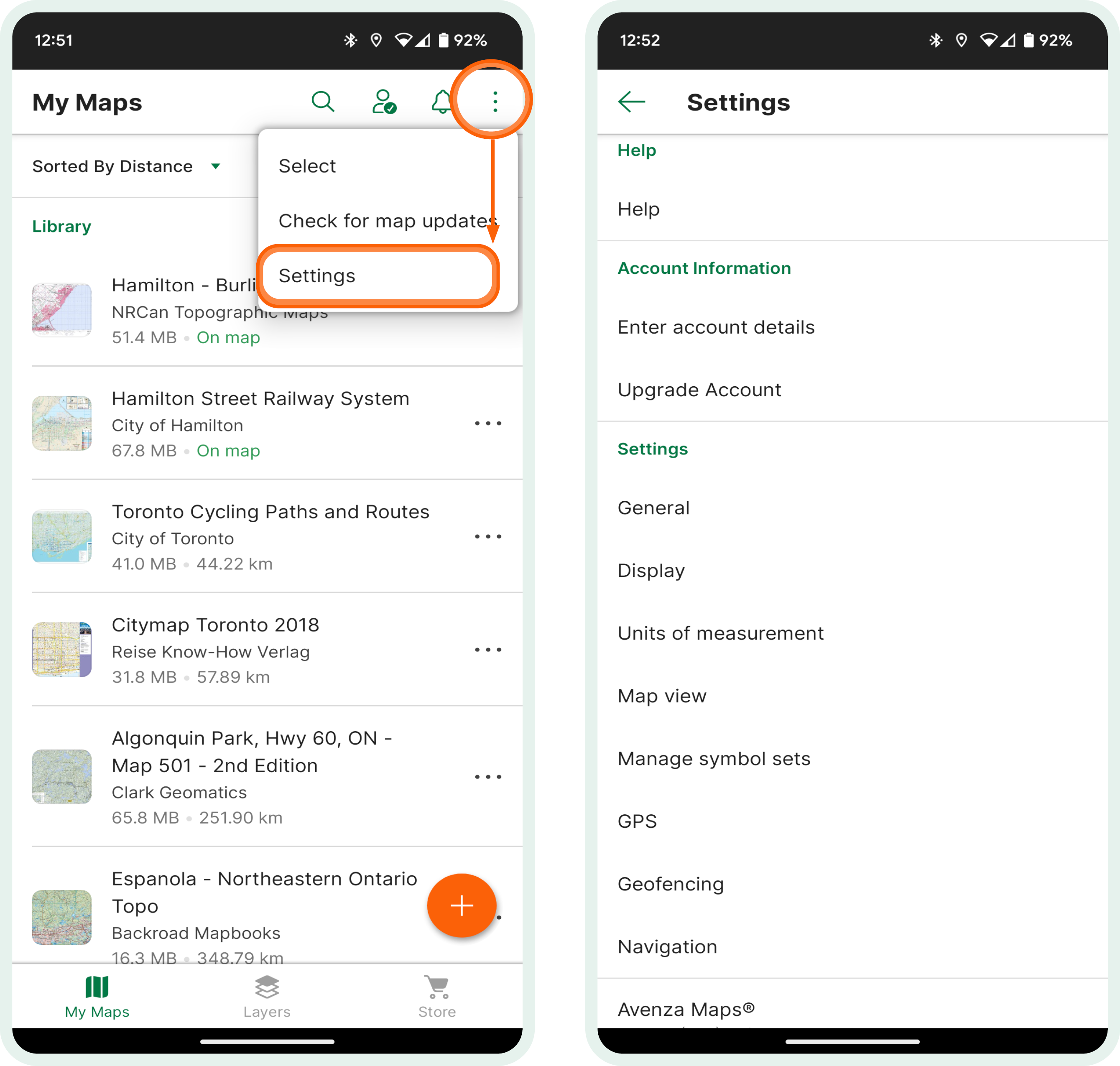 iOS
Help
This section provides links to the online help center as well as to the support request form if you need detailed assistance. You can also re-open the 'Introduction to Avenza Maps' screen, or download the Quick Guide if you need a condensed resource for offline use. Finally, you will see links to the Avenza Maps social media pages as well as some legal information.
Enter Account Details
If you have a subscription ID for a Plus or Pro account, this is where you can enter it and register your device. By tapping on this, a second dialog will open where you will enter your username (this refers to the subscription code you received), password (unless your organization has implemented a password, leave this blank), name, email, and organization. For Android in-app subscriptions, you will be sent an email that has the subscription ID attached to it, please enter it here.
Note: iOS in-app subscriptions are tied to the Apple ID used to purchase them, so there is no code for iOS subscriptions.
Upgrade Account
If you have not purchased a subscription (for either the Plus, or Pro), but would like to, you can tap 'Upgrade Account' in order to initiate the purchase process. You will be presented with two options to purchase: 1) Plus - which provides the user access to unlimited custom (non-map store) map imports, or 2) Pro subscription - which provides the user unlimited custom imports, Shapefile support, as well as the appropriate licensing required for commercial use (Pro licensing is required for any work/organization related use of the app and is on a per device basis). For more details on the Subscriptions available, please see our Subscription page.
Account Details (only visible when a subscription is active on the device)
Once a subscription is activated on the device, the Enter Subscription ID, and Upgrade to Pro options will be removed, and replaced with Account Details. This allows you to view the details of your subscription including the type of subscription, name and email the subscription is registered to, as well as the expiration/renewal date of the subscription. If you make any changes to the subscription through the Android/iOS subscription services or the Avenza Subscription Manager (for enterprise Pro accounts), the 'Update account' button will fetch the most up to date information on your subscription level and expiry date.
Restore Subscriptions
It allows you to restore previous purchases (subscriptions only) made with that iTunes account onto the device.
Settings
This section contains various options for settings throughout the app. The categories included are:
General: contains various debug settings, and core functionality settings to improve data response within the app

Display: options for how the app will display and to personalize certain colors, as well as the ability to turn on a haptic (vibrate) response on tap.

Units of measurement: options to set the desired units to use throughout the app for different measurements.

Map view: provides display and other settings directly related to the Map View.

Manage symbol sets

: allows users to import and manage custom symbol libraries.

GPS: settings for GPS track recording primarily related to accuracy.

Geofencing (Android): options to adjust the notification settings for geofences.

Navigation: options for adjusting route navigation and arrival radius settings.