This tutorial aims to outline the different ways to search the map store to find the perfect map for your needs!
Make sure you set up your Map Store account by following the steps on the welcome screen if this is the first time you open the app, or by clicking on the head/bust icon at the top of your 'My Maps' page.
After setting up your account you can start exploring maps based on your location, activity, or by category. Or if you are looking for something specific you can use our search function. There are two different ways to search the maps store. There is the search bar function and the ability to search using the map.
Using the Search Bar
The search bar is designed to search through locations, for example, if you just search 'Toronto' many different maps will show up. To make your search more precise you can include keywords and filters.
1. Enter Toronto, Ontario in the search bar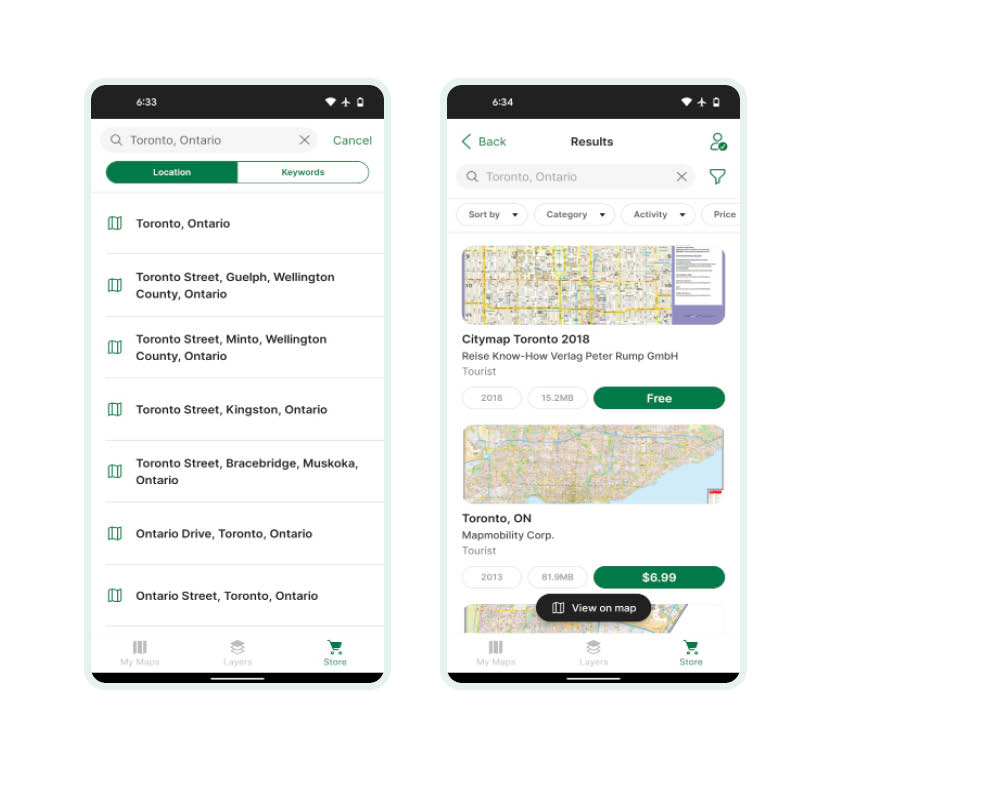 You can search by price, popularity, and proximity to the location of the search. You can also filter by Categories, such as Parks & Forest, Hunting & Fishing, or Tourism. You can also filter by Activity
2. Filter your search to only include free maps, select the tourist category, and sort by most popular.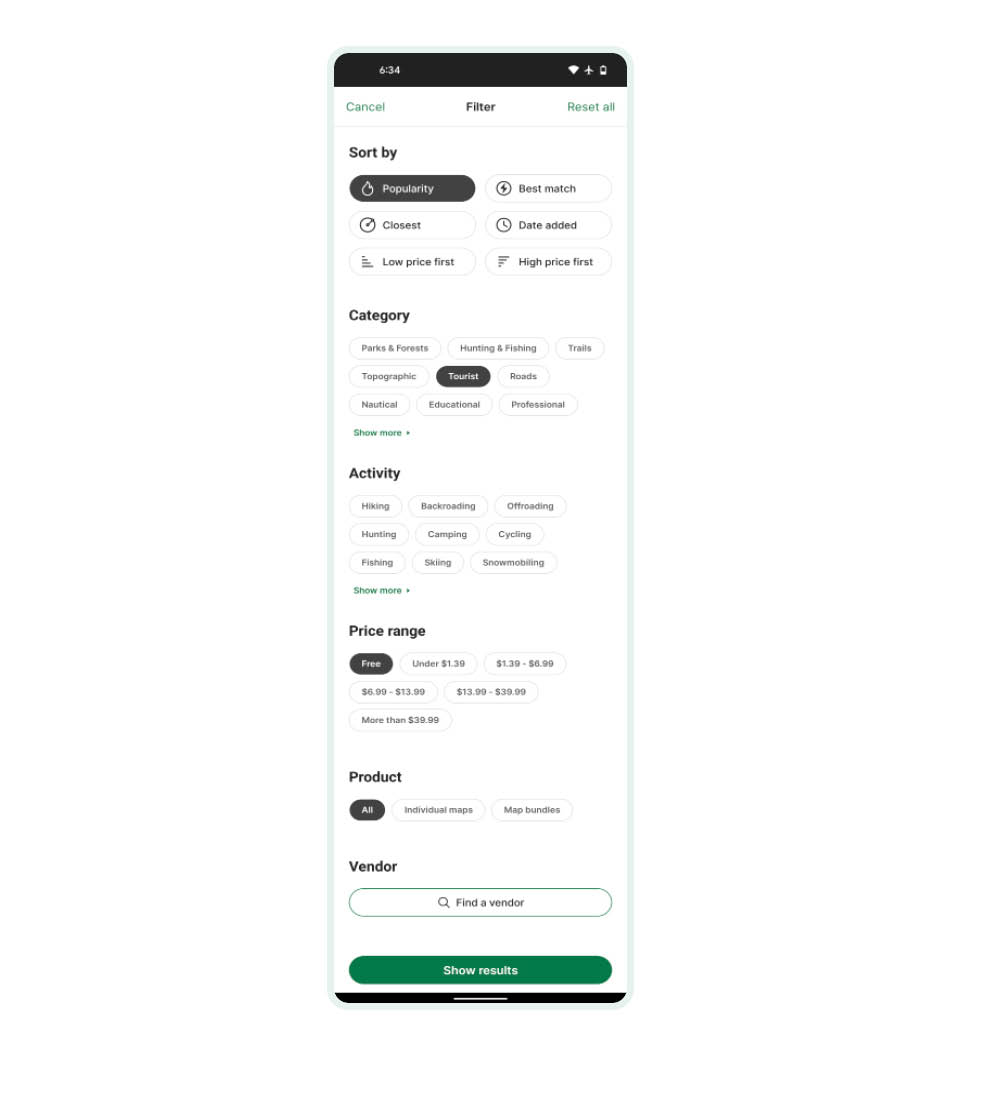 3. At the top of the list, there should be two maps of parks in Toronto, one of the East end and one of the West end.
4. After downloading both maps, go back to the My Maps list and you will see them in your 'My Maps' list.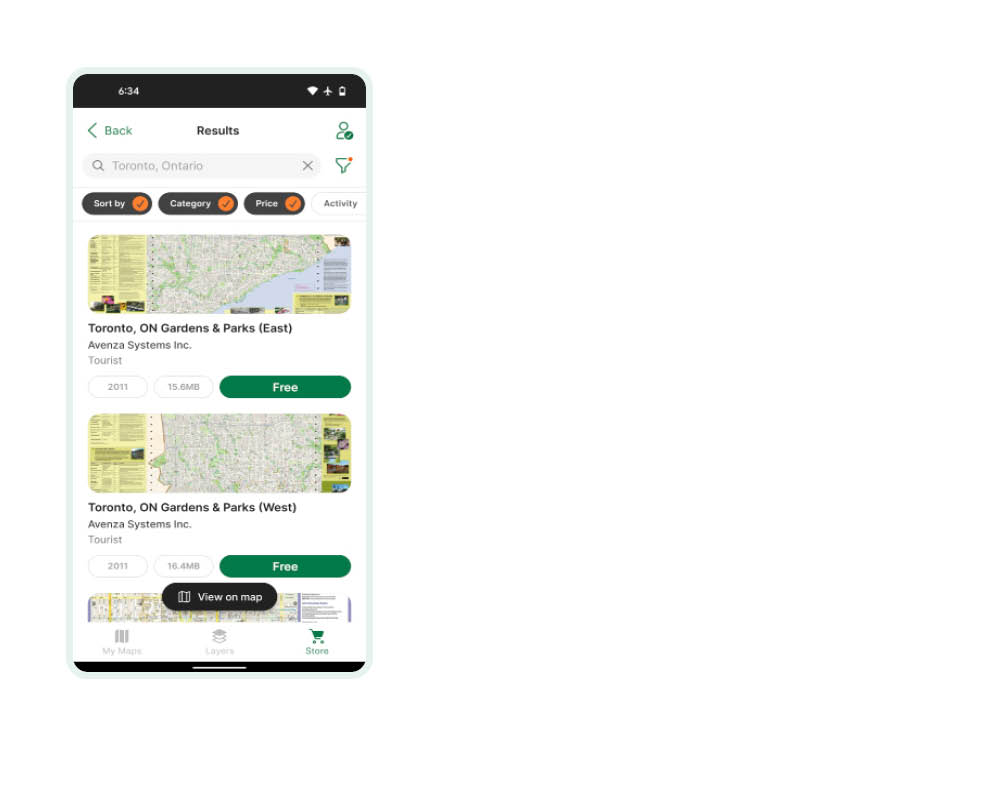 Avenza maps offer two options to organize and manage your maps, folders, and collections. Folders allow you to group maps based on your needs, so you can have a mix of maps from the store or custom imported. Collections are similar in that you can group maps based on whatever you need, but when maps are in a collection it allows you to shift from one map to another automatically without opening each one individually.
5. To add the two Parks maps to a collection by tapping on the '+' icon and select 'Add Collection'
6. Call the Collection 'Toronto Parks'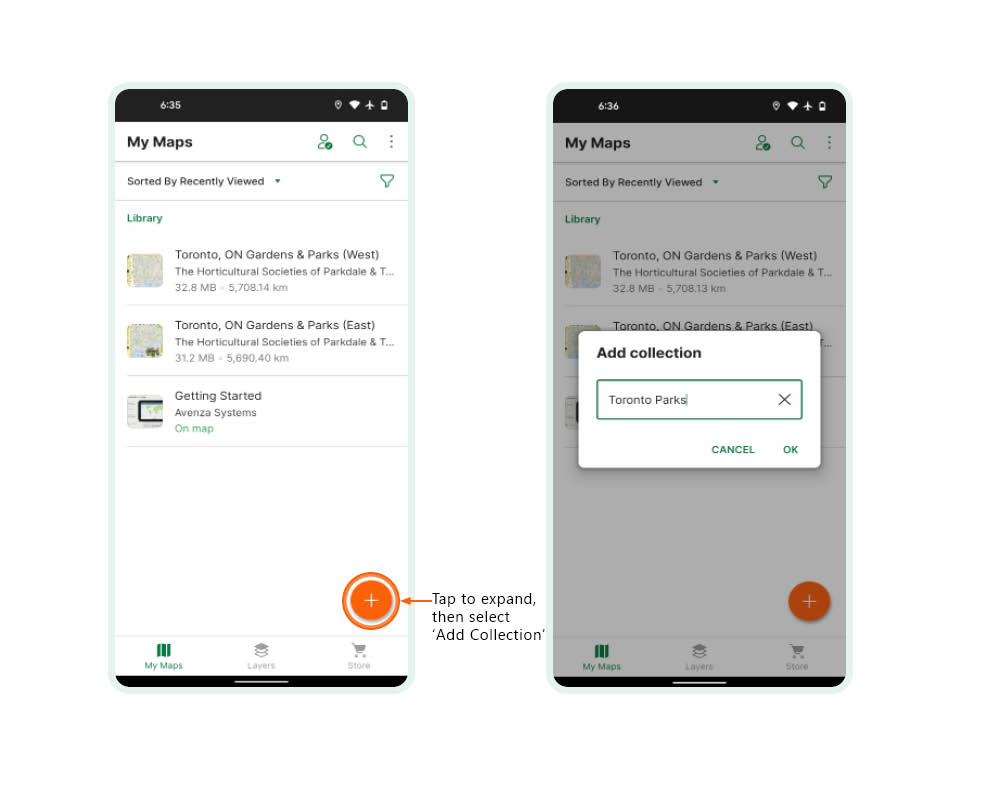 7. Move the two maps into the collection
Search Using the Map
Another option for searching the map store is to use the map to explore all the maps of the area you are interested in. This tutorial will show how to search for maps using the map
1. From the Map Store, click on the map under 'Explore On Map'. it will open up the map of your current location, with all of the maps in the store of that area
2. Search for 'Banff National Park', scroll to the bottom of the list and select 'Search for "Banff National Park"'
3. From here you can see all of the maps for the national park, click on any of the Map symbols or numbers to explore all of the maps in a given area
4. Go to the filters, and at the bottom of the list under Product, select Bundles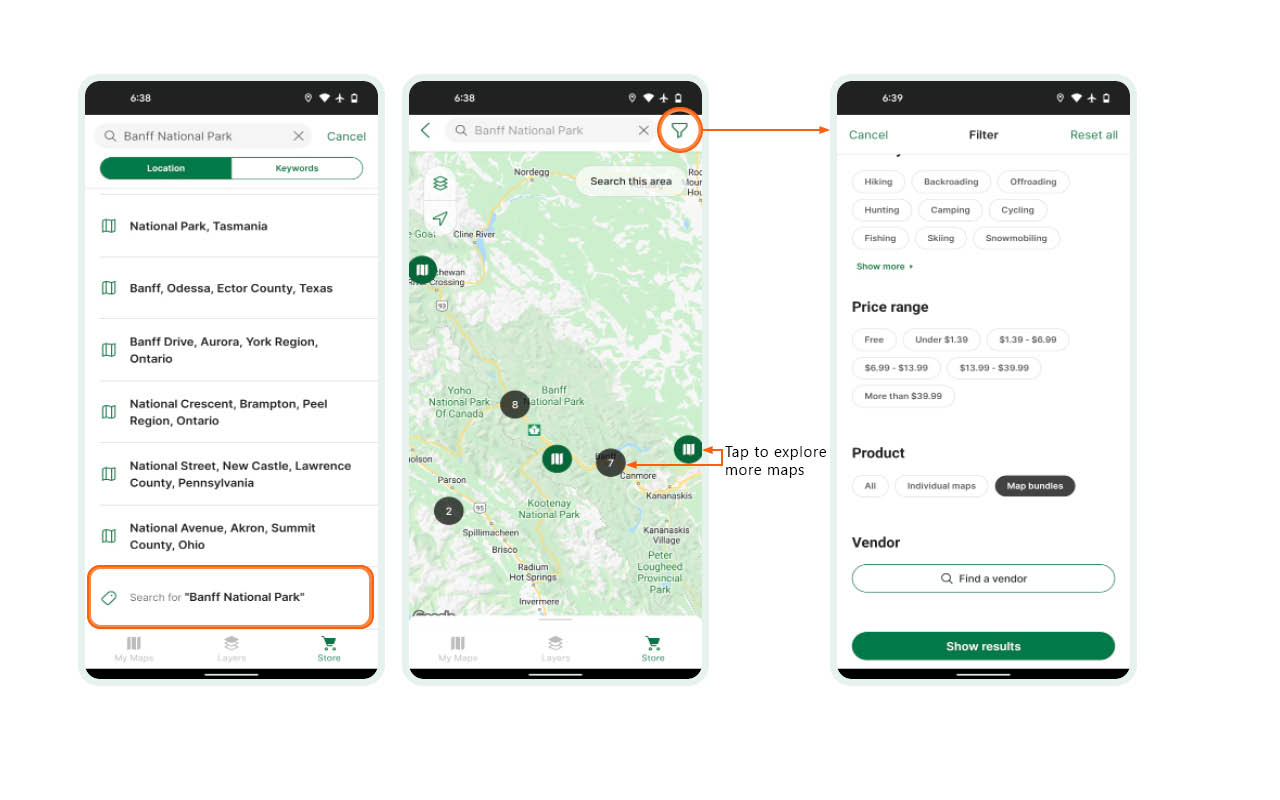 5. Select any of the available bundles and scroll through the options, until you find the 'Banff National Park' by Parks Canada, or you can also filter the maps to only show free bundles
6. Download the bundle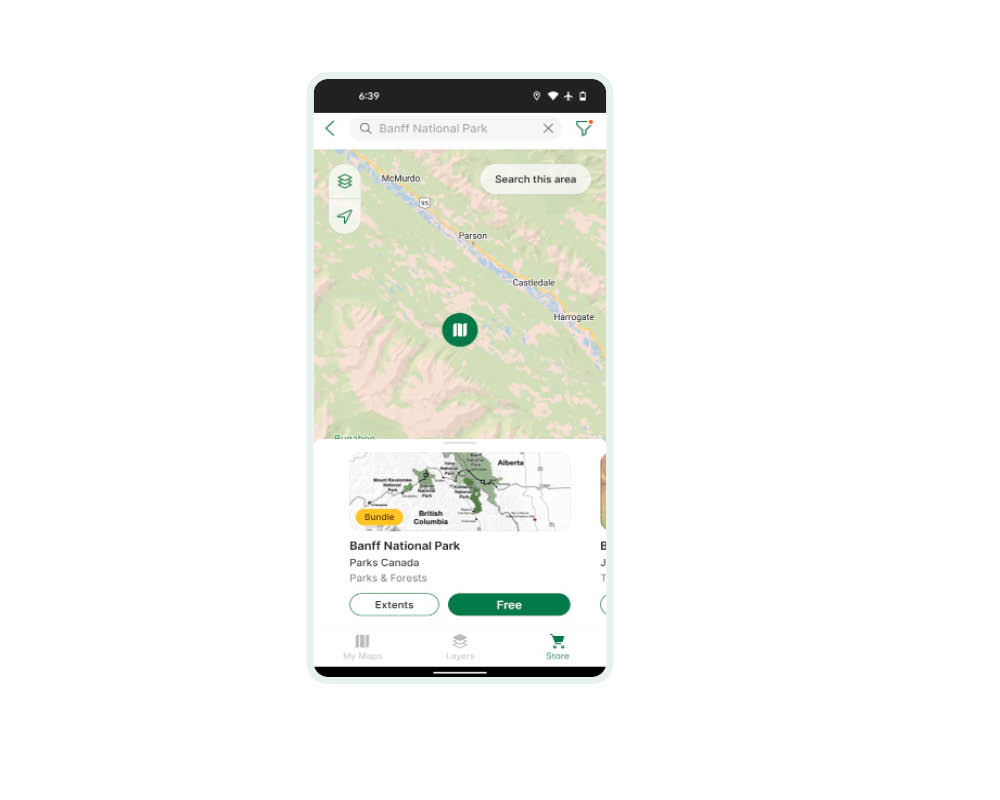 7. When the Map is downloading, make sure you have a solid internet connection and enough available storage on your device. Also, make sure you remain on the screen while the maps download, don't close the app or let your device turn off/sleep
8. Back on your 'My Maps' list, the bundle will automatically be placed in a folder called "Banff National Park"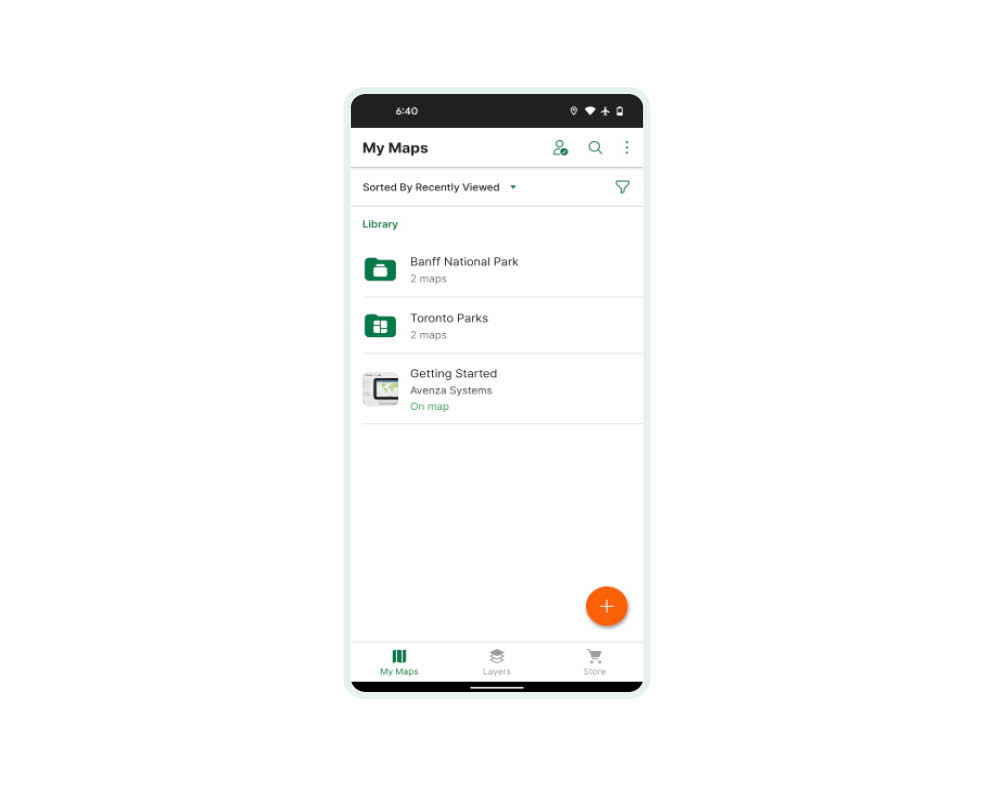 If you cannot find a map of the area you are looking for, feel free to request a map here